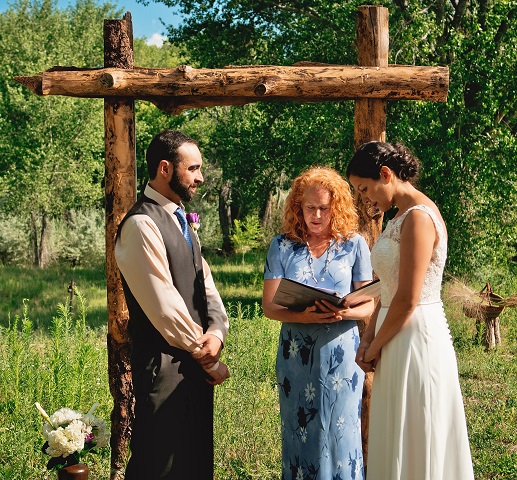 Your decision to commit to your partner, or any commitment you are being guided to join, is cause for joyous celebration. Even if you have been together for some time, living together or not, you will likely find that shifts occur in you and your relationship because you have chosen to honor your commitment with a ceremony. This is the power of commitment - It molds you and shapes you while teaching you the mystery of love.
With Andrea's unique approach of writing every ceremony she officiates, never using pre-scripted ceremonies, YOU are the focus of your ceremony - just as it should be.
Andrea writes personal vows, uses symbols sacred to you, selects meaningful readings, performs rituals and blessings joining your hearts and much more - with every detail your ceremony affirms the meaning of your commitment to YOU.
Harness the blessings of a personal ceremony by having Andrea create yours.
Santa Fe is a world-class destination city. Nestled in the mountains of northern New Mexico, Santa Fe is perfect for your ceremony. Whether you live locally or will travel to the "City Different" for your special day, you will long remember how this one-of-a-kind place made your ceremony perfectly wonderful.
For unique location and venue ideas, click this link, Santa Fe Weddings

♥ Sample Commitment Ceremonies ♥
Simply Sweet! Ceremony, from $135.00
Forever Hearts Vow Renewal, from $265.00
True-Love Ceremony, from $385.00
Enchanted Love Ceremony & Rehearsal, from $465.00
♥♥♥

Commitment ceremony fees are decided on a case-by-case basis. Because your ceremony details, its location, rehearsal requirements, and other factors vary widely, Andrea recommends taking advantage of the FREE in-depth consultation she offers all couples. Be assured, your budget is important to Andrea. She is quite skilled at creating the ceremony-of-your-dreams at an affordable cost for YOU.
Contact Andrea about your FREE consultation, click here.