(photography by Damien Spencer Photography, Albuquerque New Mexico)
There is a tremendous blessing in giving yourself a custom-designed wedding ceremony.
Celebrate your love in this most special way. With Rev. Andrea Archuleta's experience and expertise, your ceremony speaks from your hearts and affirms your deep desires for a happy life together. Your ceremony is intimately personal to your relationship and your commitment. With the personal vows Andrea writes, how she includes your children and loved ones, the meaningful readings, the special rituals and blessings she creates, and much more - every detail is about your love for each other.

♥ Sample Wedding Ceremonies ♥
Simply Sweet! Ceremony, from $135.00
Forever Hearts Vow Renewal, from $265.00
True-Love Ceremony, from $385.00
Enchanted Love Ceremony & Rehearsal, from $465.00
♥♥♥

(photography by Kevin's Photography, Albuquerque New Mexico)
Andrea honors all faiths, spiritual beliefs, cultures, traditions and marriage equality.
Whether you are a couple of the same-faith, mixed-faith, no-faith, spiritual, religious, nature-based, or wanting a traditional, unconventional, or ADVENTURE wedding ceremony; with Andrea's expertise, you will have exactly what you want.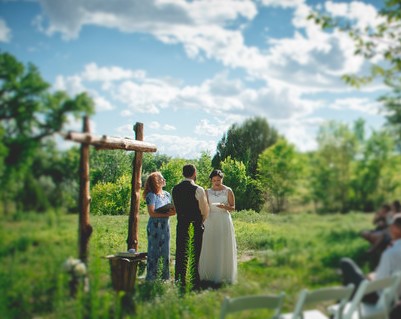 Wedding ceremony fees are decided on a case-by-case basis. Because ceremony details, locations, rehearsal requirements, and other factors vary widely, Andrea recommends taking advantage of the FREE in-depth consultation she offers all couples. Be assured, your wedding budget is important to Andrea. She will create your dream-come-true ceremony at your in-budget cost.
Contact Andrea about your FREE in-depth consultation, click here or call 505.699.5066.

A mountain needs a valley to be complete, the valley does not make the mountain less, but more; and the valley is more a valley because it has a mountain towering over it.
So let it be with each of you.
May you need one another, but not out of weakness. May you want one another, but not out of lack.
May you entice one another, but not compel one another. May you embrace one another, but not encircle one another.
May you succeed in all important ways with one another, and not fail in the little graces.
May you look for things to praise, often say "I love you" and take no notice of small faults.
-excerpt from "Blessing for a Marriage" by James Dillet Freeman